Android Mobile MRZ reader / OCR-B reader for Passport, ID cards, Driver's license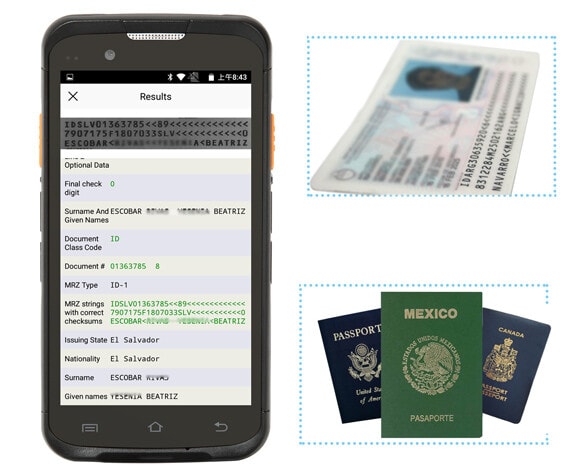 The RT930-OCR is a handheld mobile MRZ reader for passport/ ID card and driver's license, with powerful OCR engine, the RT930-OCR can read OCR-B MRZ ( machine readable zone) data—- the ICAO 9303 compliant ID documents such as ID card, passport, visa, driver's license.The MRZ usually includes information like nationality, name, birthday, document expiry date, ID numbers, with the RT930-OCR, we can get these personal data quickly and accurately so as to highly speed up the personal data collection. And finally, the scanned data can be store "locally" in the scanner, or can be transfer to remote service computer via 3G /4G or Wi-Fi, Bluetooth communication.
Traditionally, for ID / passport data scanning which used for access control or personal data collection application, people use a desktop computer + a desktop passport / id scanner, the solution not only expensive , take much space, but also can not be used for mobile access control applications. Now with this RT930-OCR mobile MRZ reader, it's a handheld terminal, its cost is very much less than the computer + desktop scanner solution, and especially for application such as Mobile customers registration; Parking access & ticketing; Building & corporate access; Mobile identity verification by police forces; Queue-busting and roaming passenger processing at airports, with this mobile solution, we can save time,we can make the ID data collection / registration more efficiently, and this even greatly improve customers satisfaction.
RT930-OCR is a large screen and IP65 rugged android mobile MRZ reader and rugged mobile passport / ID scanner terminal. With android 5.1 O.S, Motorola barcode scanner (optional), high sensitive touch screen, the versatile functions of WIFI, 4G/ 3G, GPS, Camera, etc.
It is an ideal assistant for you!
Read capabilities:

•Standard OCR fonts: OCR-B
•Machine readable passports (MRP) : 2 lines of 44 characters
•Machine readable visas (MRV): 2 lines 44 characters, 2 lines 36 characters •Travel documents: 2 lines of 36 characters, 3 lines of 30 characters
Features:
•OCR-B MRZ (Machine readable zone) reader
•1D bar code scanner (optional)
•2D scanner (readable PDF417 code in ID / Passport)-(optional) •8MP rear camera and 2MP front camera;
•RFID/NFC, GPS
•5" HD (720 x 1280) large screen, industrial grade sensitivity
•IP65 rating industrial level
•3.8V, 4000 mAh battery; POGO PIN design for quick and non-intrusive charging which can prolong the device life span and durability
Application: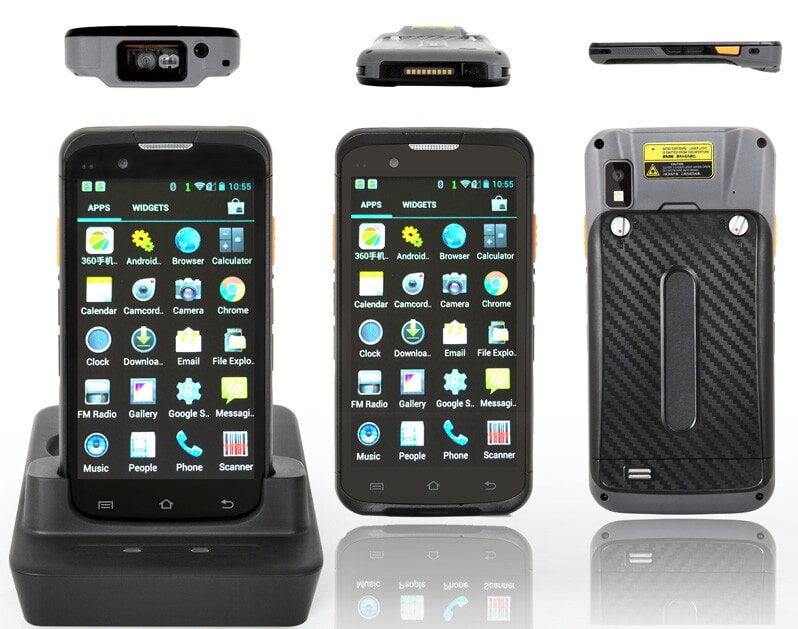 •Mobile access control
•Mobile customers registration
•Parking access & ticketing
•Building & corporate access
•Mobile identity verification by police forces
•Queue-busting and roaming passenger processing at airports
---
Catalog Download: