OCR-B Scanners and ID & Passport Scanners Manufacturer In China |
Email :
sales@idepass.com
Photo ID Scanner: IDE200
The IDE200 captures full color image and also ultraviolet (UV) and infrared (IR) images of ID card or driver's license. At the same time, it supports Optical Character Recognition (OCR) for machine-readable zone (MRZ) which is ICAO9303 compliant, and also supports PDF417 bar code reading.
With special design, it's suitable for both desktop/ on-counter use and kiosk embedded use.
It is outstanding for:
1.High speed: around 1 second for color+uv+ir+ocr processing;
2.Driver free: No driver is required, compatible with most of OS
3. No need extra power supply, USB powered directly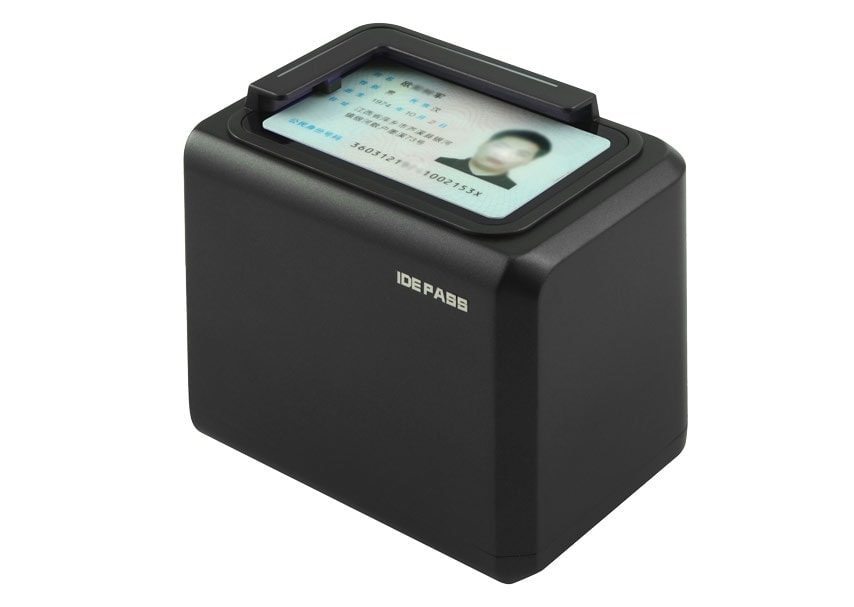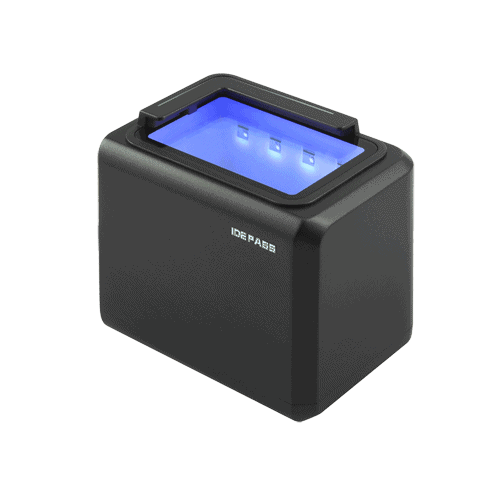 Features:
Read OCR-B/ MRZ From ID documents
Take full-page image of ID documents and read 3 lines MRZ (machine readable zone) in ID card, driver's license.
Color / UV / IR
Equipped with 3 Megapixel image sensor, and with three types of illumination which enable UV, Color, IR three types of image capture
High speed
Around one second for three types of image + OCR processing
No driver is required
No driver is required, compatible with most of OS
Automatic Reading
The IDE200 support to automatically detects and reads the ID documents when we put the documents on its window
Suitable for both Desktop & Embedded use
Its design suitable for both on-counter and self- service terminals embedded use
USB Powered directly
No need extra power supply
No moving parts
Durable design and Reliable, no moving parts
Read Big Size PDF417 From ID Card
Readable those big sizes and high-density PDF417/ QR coded from ID card/driver's license, e.g.: IDs of El Salvador, Costa Rica, Colombia, Paraguay, Vietnam, Nicaragua, Panamá, Egypt, South Africa, México...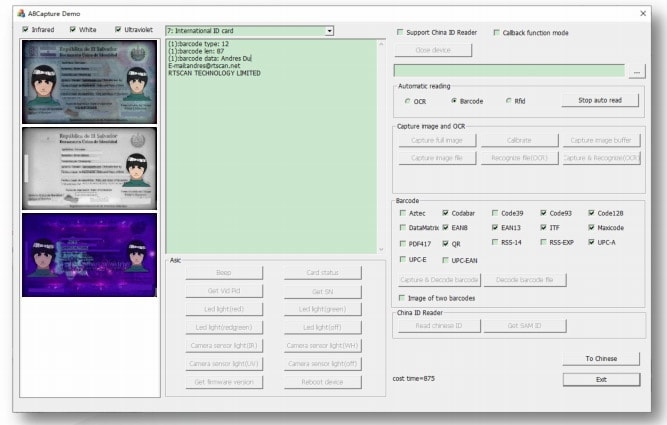 Software SDK
The IDE200 Captures ID1 documents in single-action: Ultraviolet, infrared, and full color; and simultaneously decode the MRZ data or bar codes.
Applications
Access control and visitor registration system
Bank counter user information registration system
Securities company customer management system

In

tegration into self-service kiosks
Restaurant front desk registration system
Hotel customer information registration system and public security management
Duty-free shop customer information registration system
Customer identity management system for casino, night bar, VIP club and other occasions
Train and bus station passenger management
Telecom service account application system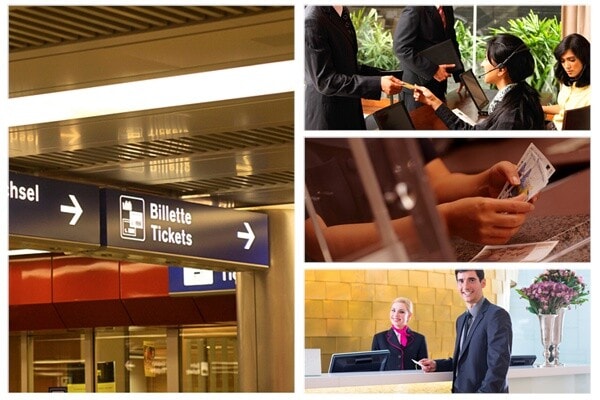 ---
---
Specification
Function

Usage

Specification

Standard OCR reader

1D/2D bar code reader

• ID card

• Driver license

• ICAO9303 td1, 3 line MRZ

• 2D:PDF417,GM,QR,DM

• 1D:Code39,Code128,Codabar,EAN-EAN-13,ITF

Light Source

• White

• UV

• IR

• Color Image

• Ultraviolet Image

• Infrared Image

Scan speed

• Color+ IR

• Color+ IR+UV

• Less than 0.7s

• Less than 1s

*Would be a little different with different computer.

Scan Mode

• Software trigger

• Auto mode

• By scan button in software interface

• Automatic card placement detection and read;

Resolution

• 3M Camera

• 460 DPI

Power Supply

USB Supply

• USB, no external power needed

Communications and host

•Communication

• Host

• SDK

• USB 2.0 high speed

• No driver is required, compatible with most of OS: Windows, Linux, Android, Mac; But SDK is based on Windows only currently.

• Free SDK/ license included, Supports to pick up name, id number from MRZ data, and decode bar codes

Mechanical/ Electric

• Dimensions

• Weight

• Notification

• Window

• 13.4(W)×9.4(D)×11.4(H)/cm

• 300g

• Beep, LED indicator

• Anti-scratch glass